30 years of Quattro Plant
---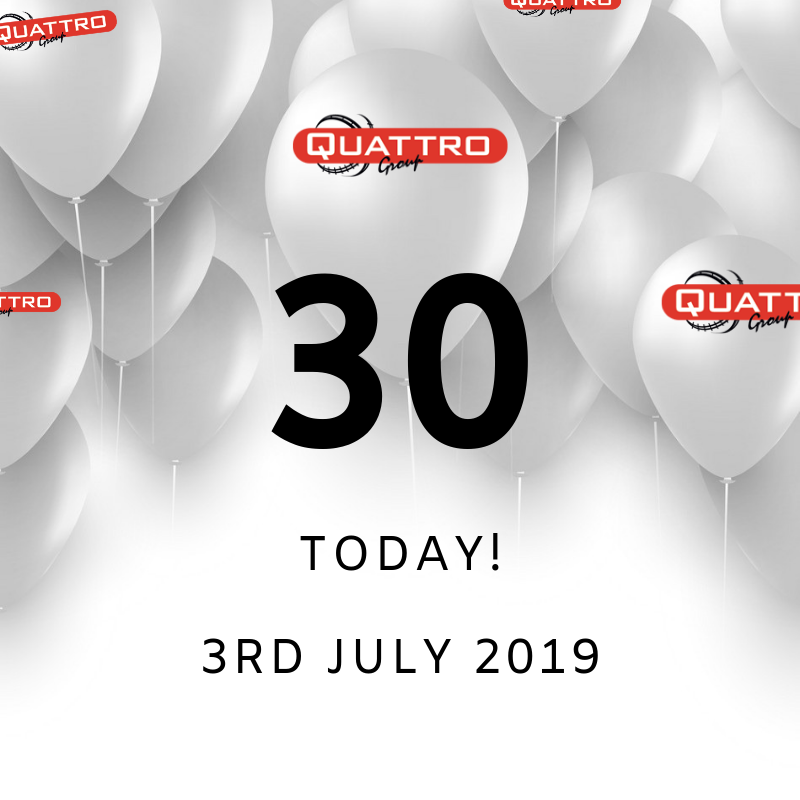 It's been three decades today since the Quattro Group first burst on to the plant hire scene, and we've certainly been busy in those thirty years!

With Managing Director John Murphy at the helm, just as he was on the 3rd July 1989, the Quattro Group continues to grow, with Quattro Air the latest high-flying division to the growing fleet.

So, how did it all get started? Let's look back over 30 fun-packed years of Quattro-action:
1989: Quattro Plant was born with the purchase of two sweepers by John Murphy
1992: The team begin working in rail supplying plant and operator requirements to LUL's Ruislip depot
1997: Work commenced on rail infrastructure supplying trackside operated plant to LUL ETRS for GKE BOUW
2001: Quattro invest in the first of many RRVs, including the Rexquote Case 998, Philmor Komatsu PW130s and the midi excavator range
2003: Quattro becomes established as a supplier of road rail plant to both the LUL and NWR (then Railtrack) infrastructure, and relocates to new company-owned premises in Stratford, East London. The company also purchased their first Komatsu PW150 Megarailers
2005: The company's first tracked machines join the fleet, as tracked RRVs and rail dozers are purchased to complete work with First Engineering (now Babcock Rail)
2008: Quattro acquire BCL, a fellow plant hire firm, establishing the organisation as the second largest RRV supplier and Network Rail's preferred maintenance contractor. New depots are opened in Airdrie, Bodmin, Cwmbran, Welwyn Garden City, Doncaster, Lichfield, Lockerbie and Manchester.
2009: Kent Sweepers is taken over, acquiring depots in Rochester, Fareham and Portishead
2010: The sweeper fleet is further boosted with the acquisition of Map Sweepers and the addition of a Newton Abbot depot
2010: Quattro Occupational Training Academy (QOTA) opens its doors in Lichfield, offering plant and safety training
2018: The acquisition of AB2000 gives the group a significant presence north of the border, supplementing the existing fleet with a significant mobile crane hire division (including test weights and equipment moving), rail, and Northern – which includes Ellon Plant Hire, Phoenix Weights and Phoenix Marine, and additional depots in Inverness, Glasgow and Aberdeen.
2018: The Quattro Group goes international, with the acquisition of Vroom Bros. (Rail), a Netherlands-based vacuum-excavation organisation. Quattro B.V. is launched!
2019: With road and rail firmly covered, the only way was up, and Quattro Air took to the skies in the summer of 2019, just in time to be the centrepiece of 30th birthday celebrations!
The organisation has grown to fifteen nationwide depots and five QOTA training centres, meaning that the Quattro team are always on hand to offer tailored support, and continue to build the organisation's name as one of the UK's biggest suppliers of rail, civils and environmental plant hire.

Here's to another 30 years!