Quattro's Petrol Station Hero
---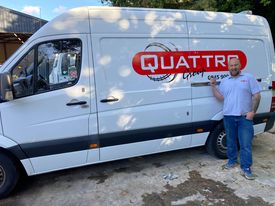 This week on Facebook the Quattro page received a private message praising Quattro employee Ian Marriner, for aiding a driver, Julie, who was trying to get petrol amidst an unruly crowd in an area unfamiliar to her.
Julie was positioned at the front of a line of impatient petrol buyers on the forecourt of a Waitrose garage in Hickstead as she waited for the tanker driver to finish delivering fuel. As she sat patiently in her car for her turn, others did not. Ian Marriner, who was in his Quattro van nearby, foresaw an escalation that he quickly jumped in to calm before assisting Julie at the pump.
Julie's husband wrote:
Good Morning,
I just wanted to pass on my thanks to one of your employees who yesterday assisted my wife on her journey home. With the panic buying fuel everywhere she was caught out on almost empty and very emotional and still 80 miles from home. She managed to get herself to Little Waitrose garage in Hickstead where one of your employees in a van (sorry, no other details) helped her join the queue and when she was filling up had worked herself into such a state she couldn't function properly and he very kindly helped fill her car for her. We live in Portsmouth and I had started the journey up to her but this gentleman was a god send and really made her feel comfortable and at ease. A 90 minute journey took her 4.5 hours and thanks to your employee, the stress was taken out if it a lot sooner than it could have been.

If you are able to identify him please pass on our thanks.

Kind Regards
Steve
We managed to quickly identify Ian, who recalled what happened:
We chatted and she told me she had never been that way before. I'm from Portsmouth as well, so I knew where she needed to go. The tanker driver was there delivering fuel and people were being rowdy. Me at seventeen stone, I thought, 'Well I'll soon stop this rowdiness!' In the confusion she ended up at the wrong pump so I stretched the line of another pump around the side of her car to fit the cap and make sure she got the petrol she needed. She was then safely on her way.
Ian Marriner has been with Quattro for seven years and is the Fitter Foreman in Fareham. Asked how he felt to be a hero, Ian replied, laughing,
'Well I'm always a hero ain't I?'
Nobody's going to argue with you now, Ian!
Quattro would like to extend thanks to Steven, Julie's husband for contacting the page, and to Ian Marriner, for doing the decent thing.